Expand your career opportunities or enter new areas of practice with help from AICPA certificate programs. Demonstrate competency, expand your career opportunities or enter new areas of practice by earning a certificate.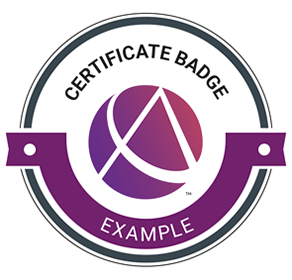 Spotlight Your Accomplishments    
Learn, earn and display a digital badge - a graphical representation of your knowledge and skills.
Validate your experience. Let prospects, clients and employers quickly verify your proficiencies.
Power your communications. Display your badge in proposals, social media, emails and online profiles. Share it via a unique URL as well.
Verify your commitment to quality. The AICPA is known for quality instruction, based on industry best practices.
Explore Certificate Programs
Earn your certificate from the most influential body for finance and accounting professionals in the world. The competency-based programs are developed by leading subject matter experts, proven in their respective fields. Learn at your own pace and your preferred style - via webcast, on-site or self-study - for an engaging and effective experience. 
 
 
 
 
 Certificate Program               Hours      Members Pay    Nonmembers Pay
 
 
 

| | | | |
| --- | --- | --- | --- |
| Advanced Estate Planning Strategies | 2.5 | $79.00 | $99.00 |
| AICPA Guidance for the Forensic Engagement | 1 |  $49.00 |  $59.00 |
| Aligning Mission and Strategy | 1.5 |  $59.00 |  $69.00 |
| Analyzing Client Retirement Data | 4 | $79.00 | $99.00 |
| Annuities  | 2.5 | $85.00 | $105.00 |
| Application of Data Analysis Essentials Certificate | 14 | $839.00 | $999.00 |
| Applying the COSO ERM Framework | 2 | $69.00 | $89.00 |
| Assets | 1.5 | $49.00 | $59.00 |
| Auditing Considerations | 1.5 | $49.00 | $59.00 |
| Bankruptcy, Insolvency and Reorganization | 1 | $49.00 | $59.00 |
| Basic Estate and Gifting Strategies | 1.5 | $95.00 | $119.00 |
| Best Practices in Board Governance | 1 | $29.00 | $39.00 |
| Blockchain Fundamentals for Accounting and Finance Professionals Certificate | 12 | $185.00 | $225.00 |
| Budgeting Considerations | 2 | $69.00 | $89.00 |
| Calculating Intellectual Property Infringement Damages | 1 | $49.00 | $59.00 |
| Cash Management Strategies  | 1.5 | $79.00 | $99.00 |
| Charitable Planning  | 2.5 | $95.00 | $119.00 |
| Closely Held Business Estate Planning  | 1.5 | $79.00 | $99.00 |
| Common Investigative Techniques | 1 | $49.00 | $59.00 |
| Conducting Effective Interviews | 1 | $49.00 | $59.00 |
| COSO Enterprise Risk Management Certificate | 13.5 | $920.00 | $1,155.00 |
| COSO Internal Control Certificate | 16.5 | $1,229.00 | $1,535.00 |
| Creating the Investment Policy Statement  | 3 | $79.00 | $99.00 |
| Creating, Implementing, and Monitoring the Retirement Plan | 4 | $79.00 | $99.00 |
| Cyberattacks, Data Breaches, and Privacy | 3 | $75.00 | $95.00 |
| Cybersecurity Advisory Services Certificate | 15.5 | $819.00 | $1,025.00 |
| Cybersecurity and Digital Transformation | 1.5 | $65.00 | $75.00 |
| Cybersecurity Frameworks and Regulations | 3 | $75.00 | $95.00 |
| Cybersecurity Fundamentals for Finance and Accounting Professionals Certificate  | 13.5 | $359.00 | $449.00 |
| Cybersecurity Practical Applications Certificate Program | 12 | $339.00 | $429.00 |
| Cybersecurity Risk Management | 1.5 | $55.00 | $65.00 |
| Data Analytics Core Concept | 8 | $310.00 | $395.00 |
| Data Analytics Modeling Certificate | 14 | $699.00 | $879.00 |
| Data Visualization Certificate | 10 | $719.00 | $900.00 |
| Deposition and Testimony | 1 | $49.00 | $59.00 |
| Economic Damages for Individuals: A CPA's Role | 1 | $49.00 | $59.00 |
| Economic Damages for Individuals: Case Studies and Analysis | 1 | $49.00 | $59.00 |
| Economic Damages in Business | 1.5 | $49.00 | $59.00 |
| Education Planning | 3.5 | $85.00 | $105.00 |
| Elder and Special Needs Planning | 2.5 | $79.00 | $99.00 |
| Ethical Issues | 2 | $75.00 | $95.00 |
| Exchange and Agency Transactions | 1.5 | $65.00 | $75.00 |
| Executive and Deferred Compensation Arrangements | 3 | $79.00 | $99.00 |
| Expenses | 2.5 | $69.00 | $79.00 |
| Fair Value Issues Specific to NFPs | 2 | $59.00 | $69.00 |
| Family Law Engagements | 1 | $49.00 | $59.00 |
| Federal and State Filing Requirements | 1 | $29.00 | $39.00 |
| Finance Transformation: Ignite Change Certificate | 11.5 | $409.00 | $515.00 |
| Finance Transformation: Manage Disruption Certificate | 7.5 | $309.00 | $389.00 |
| Finance Transformation: Transform Skills Certificate | 16 | $409.00 | $512.00 |
| Financial Oversight, Budget and Strategy | 3 | $79.00 | $89.00 |
| Financial Planning with Business Owners | 1.5 | $85.00 | $105.00 |
| Financial Statement Fraud and Asset Misappropriation | 1 | $49.00 | $59.00 |
| Financial Statement Note Disclosures | 1.5 | $89.00 | $109.00 |
| Financial Statement Presentation | 1.5 | $65.00 | $75.00 |
| First-Time Adoption of IFRS (IFRS 1) | 1 | $39.00 | $49.00 |
| Forecasting and Predictive Analytics Certificate | 15 | $719.00 | $900.00 |
| Foreign Exchange Rates (IAS 21) | 1 | $39.00 | $49.00 |
| Form 990 Preparation: Core Form | 2 | $85.00 | $105.00 |
| Form 990 Preparation: Schedules | 2.5 | $85.00 | $105.00 |
| Fraud Overview and Prevention | 2 | $59.00 | $69.00 |
| Fraud Prevention, Detection, and Response | 1.5 | $49.00 | $59.00 |
| Fundamentals of Forensic Accounting Program | 21.5 | $659.00 | $749.00 |
| GAAP for NFPs | 1 | $29.00 | $39.00 |
| Governmental and Employer Retirement Plans | 4 | $79.00 | $99.00 |
| Group Insurance and Employee Benefits | 1.5 | $79.00 | $99.00 |
| Identifying and Obtaining Evidence | 1 | $49.00 | $59.00 |
| IFRS 5: Non-current Assets Held for Sale and Discontinued Operations (IFRS 5) | 1 | $39.00 | $49.00 |
| IFRS Certificate Program  | 28.5 | $869.00 | $1,095.00 |
| IFRS: Accounting Policies, Changes in Accounting Estimates and Errors (IAS 8) | 1 | $39.00 | $49.00 |
| IFRS: Business Combinations (IFRS 3) | 1 | $39.00 | $49.00 |
| IFRS: Consolidated Financial Statements (IFRS 10) and Separate Financial Statements (IAS 27) | 1.5 | $39.00 | $49.00 |
| IFRS: Earnings Per Share (IAS 33) | 0.5 | $39.00 | $49.00 |
| IFRS: Employee Benefits (IAS 19) | 1 | $39.00 | $49.00 |
| IFRS: Financial Instruments (IFRS 9, IAS 32, and IFRS 7) | 2 | $39.00 | $49.00 |
| IFRS: Government Grants (IAS 20) | 1.5 | $39.00 | $49.00 |
| IFRS: Impairments (IAS 36) | 1 | $39.00 | $49.00 |
| IFRS: Income Taxes (IAS 12) | 1 | $39.00 | $49.00 |
| IFRS: Intangible Assets (IAS 38) | 1.5 | $39.00 | $49.00 |
| IFRS: Inventory (IAS 2) | 1 | $39.00 | $49.00 |
| IFRS: Investment Property (IAS 40) | 1 | $39.00 | $49.00 |
| IFRS: Investments in Associates and Joint Ventures (IAS 28) and Joint Arrangements (IFRS 11) | 1 | $39.00 | $49.00 |
| IFRS: Leases (IAS 17) | 1 | $39.00 | $49.00 |
| IFRS: Presentation of Financial Statements (IAS 1) & Events after the Reporting Period (IAS 10) | 2 | $39.00 | $49.00 |
| IFRS: Property, Plant & Equipment (IAS 16) and Borrowing Costs (IAS 23) | 1 | $39.00 | $49.00 |
| IFRS: Provisions, Contingent Liabilities and Contingent Assets (IAS 37) | 1 | $39.00 | $49.00 |
| IFRS: Related Party Disclosures (IAS 24) | 1 | $39.00 | $49.00 |
| IFRS: Revenue from Contracts with Customers (IFRS 15) | 1 | $39.00 | $49.00 |
| IFRS: Share-based Payment (IFRS 2) | 1.5 | $39.00 | $49.00 |
| IFRS: Statements of Cash Flows (IAS 7) and Interim Reporting (IAS 34) | 1 | $39.00 | $49.00 |
| IFRS: The Conceptual Framework for Financial Reporting and Fair Value Measurement (IFRS 13) | 1 | $39.00 | $49.00 |
| Incapacity and Postmortem Estate Planning  | 3 | $79.00 | $99.00 |
| Insurance Contracts and Needs Analysis | 1.5 | $79.00 | $99.00 |
| Integrating Estate Planning with the Tax and Financial Plan | 1.5 | $95.00 | $119.00 |
| Integrating Investments with the Financial Plan | 2 | $79.00 | $99.00 |
| Interpreting and Analyzing Financial Statements | 2 | $75.00 | $95.00 |
| Introduction to Form 990 | 2.5 | $69.00 | $79.00 |
| Introduction to Not-For-Profit Entities: Accounting, Tax and Compliance Essentials | 2 | $65.00 | $75.00 |
| Investment Data Gathering and Analysis | 3 | $79.00 | $99.00 |
| Investment Monitoring and Updating | 1.5 | $79.00 | $99.00 |
| Investment Planning Process | 1.5 | $79.00 | $99.00 |
| Investment Vehicles and Strategies | 3 | $85.00 | $105.00 |
| Investments | 1 | $29.00 | $39.00 |
| Leveraging Technology in Forensic Engagements | 1 | $49.00 | $59.00 |
| Liabilities  | 2 | $59.00 | $69.00 |
| Life Insurance  | 4 | $85.00 | $105.00 |
| Maintaining Tax Exemption | 2 | $59.00 | $69.00 |
| Managing the Forensic Engagement | 1 | $49.00 | $59.00 |
| Medical, Disability and Property, and Casualty | 4 | $79.00 | $99.00 |
| Net Assets | 1 | $65.00 | $75.00 |
| Not-for-Profit Accounting and Financial Reporting Track | 19 | $429.00 | $515.00 |
| Not-for-Profit Certificate I Program | 40 | $819.00 | $1,025.00 |
| Not-for-Profit Certificate II program | 30 | $719.00 | $900.00 |
| Not-for-Profit Financial Reporting Track | 11 | $265.00 | $339.00 |
| Not-for-Profit Governance and Assurance Track | 10.5 | $259.00 | $375.00 |
| Not-for-Profit Governance and Assurance Track | 11 | $295.00 | $329.00 |
| Not-for-Profit Tax Compliance Track | 8.5 | $265.00 | $339.00 |
| Not-for-Profit Tax Compliance Track | 8 | $259.00 | $329.00 |
| Performance Measurement for Not-for-Profits | 2 | $69.00 | $89.00 |
| Personal Financial Planning Estate Planning Certificate Program and Exam Bundle | 18 | $545.00 | $685.00 |
| Personal Financial Planning Investment Planning Certificate and Exam  | 19.5 | $545.00 | $719.00 |
| Personal Financial Planning Process  | 1.5 | $79.00 | $99.00 |
| Personal Financial Planning Retirement Planning Certificate and Exam | 20.5 | $545.00 | $685.00 |
| Personal Retirement Investments, Income, and Expenses | 3 | $79.00 | $99.00 |
| PFP in Practice: Putting it all Together, Part 1 and 2 | 7 | $159.00 | $199.00 |
| PFP Practical Applications Certificate Program  | 13 | $409.00 | $515.00 |
| PFP Regulatory and Fiduciary Landscape | 1.5 | $79.00 | $99.00 |
| PFP Standards and Responsibilities  | 1.5 | $79.00 | $99.00 |
| Planning the Audit Engagement | 1.5 | $49.00 | $59.00 |
| Portfolio Management  | 2 | $79.00 | $99.00 |
| Preparing Consolidated Financial Statements | 1.5 | $59.00 | $69.00 |
| Private Foundations | 1 | $29.00 | $39.00 |
| Programmatic Investments | 1 | $29.00 | $39.00 |
| Reporting Requirements & Preparing Sustainable Reports | 1 | $49.00 | $59.00 |
| Revenue from Contributions | 2 | $89.00 | $105.00 |
| Risk Assessment and Internal Controls | 2 | $59.00 | $69.00 |
| Risk Assessment for NFP | 1 | $49.00 | $59.00 |
| Robotic Process Automation Fundamentals for Accounting and Finance Professionals Certificate | 16 | $565.00 | $705.00 |
| Robotic Process Automation Strategy for Business Leaders | 7 | $205.00 | $255.00 |
| SOC for Cybersecurity Certificate | 14.5 | $819.00 | $1,025.00 |
| Split-Interest Agreements and Endowments | 2 | $59.00 | $69.00 |
| Statement of Activities | 1.5 | $75.00 | $95.00 |
| Statement of Cash Flows | 1.5 | $59.00 | $69.00 |
| Statement of Financial Position | 1 | $65.00 | $75.00 |
| Statement of Functional Expenses | 1.5 | $59.00 | $69.00 |
| Tax-Exempt Status | 2 | $59.00 | $69.00 |
| The Business of Cybersecurity | 2.5 | $55.00 | $65.00 |
| The Estate Planning Process | 3 | $95.00 | $119.00 |
| The Importance of Cybersecurity | 2 | $69.00 | $79.00 |
| The Retirement Planning Process | 3 | $79.00 | $99.00 |
| The Risk Management Planning Process | 2 | $79.00 | $99.00 |
| Trusts and Estate Planning Documents | 3 | $79.00 | $99.00 |
| U.S. International Tax : Inbound and Outbound | 27.5 | $480.00 | $605.00 |
| U.S. International Tax Certificate | 48.5 | $819.00 | $1,025.00 |
| U.S. International Tax: Advanced Issues | 12 | $309.00 | $389.00 |
| U.S. International Tax: Core Concepts | 9 | $185.00 | $235.00 |
| Understanding the Basic Structure of the Legal System | 1 | $49.00 | $59.00 |
| Understanding the Forensic Accountant Role | 1.5 | $49.00 | $59.00 |
| Unrelated Business Income Tax | 1.5 | $49.00 | $59.00 |
| Unrelated Business Income Tax (UBIT) Case Studies | 2 | $75.00 | $95.00 |
| Valuations in Litigation Matters | 2 | $49.00 | $59.00 |