2561

|
OSCPA Live
|
May 4
OSCPA's Governmental Accounting and Auditing Conference - Norman
Thursday, May 4, 2023

8:00am

-

Friday, May 5, 2023

4:15pm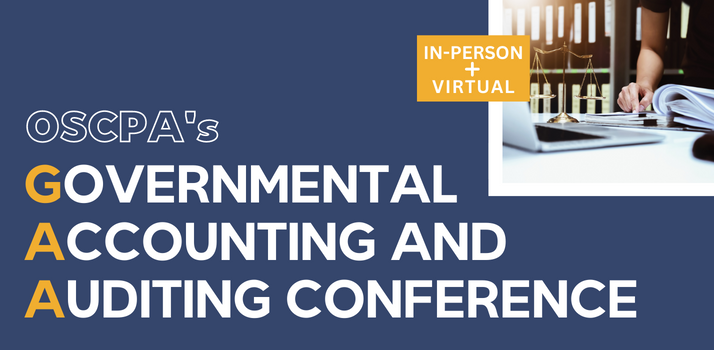 Join us for the OSCPA's 2023 Governmental Accounting and Auditing Conference!
The conference will be held May 4-5 and will offer up to 16 hours of recommended CPE credit including Yellow Book credit and two hours of Oklahoma ethics.
Attendees can also receive up to 16 hours of CLE (Continuing Legal Education) credit.
The OSCPA's Governmental Accounting and Auditing Conference is sponsored by the OSCPA Governmental Accounting and Auditing Committee.
The OSCPA has updated our Transfer Policy for in-person events. Find more information here.
---
Room Reservations: Discounted room rates are available at the Embassy Suites Norman for $129/night (only available through April 12, 2023) . You can book your room online or by calling 1-866-577-1273 and using group code GAA.
Virtual Attendance: If you prefer to attend online, you can register for the virtual event here.
Instructors
---
Designed For
CPAs and accounting staff working in government or public accounting
---
---
Instructors
Cynthia D. Byrd
Cindy Byrd, CPA, is Oklahoma's 13th state auditor and inspector, making state history by being the first woman elected. She is the only candidate to top the 800,000-vote milestone in an election for state office in Oklahoma history. Byrd earned a Bachelor of Science in Accounting from East Central University. She is a Certified Public Accountant with more than 20 years of governmental auditing experience. Her public service includes planning and conducting county audits, district attorney audits, emergency medical services district audits and investigative audits. The State Auditor & Inspector's primary function is to safeguard public assets. Byrd is at the forefront of this mission by striving to identify wasteful spending, assisting elected officials to fully understand their fiduciary responsibility to preserve the public trust, effectively administer government auditing standards to be utilized as tools to create more responsive government at every level and improve the efficient delivery of government services.
Frank W. Crawford
Frank Crawford, CPA, is president of Crawford & Associates, CPAs, P.C., an accounting firm in Oklahoma City. The firm specializes in providing auditing, consulting and accounting services solely to governmental entities and is a member of the AICPA and the AICPA Government Audit Quality Center. Over the last 36 years, Crawford & Associates has provided a variety of audit and accounting services to all sizes of government including many types of financial statement audits and attestation services, fraud investigations, internal control analysis, accounting policy and procedure development, outsourced internal auditing and internal monitoring, developing management anti-fraud programs and controls, quality assurance reviews, training and expert witness services. Crawford served as chairman of the AICPA Government Expert Panel from 2004-2008. He has been involved in a number of other AICPA committees and task force groups, U.S. Federal Government Agencies, various local and national CPA firms and a number of state societies.
Lisa R. Parker
Lisa R. Parker, CPA, CGMA, is a senior project manager with the Governmental Accounting Standards Board (GASB). Prior to joining the GASB, she worked for Runyon Kersteen Oiellette CPAs, served as the finance director and interim town manager for the Town of Old Orchard Beach, Maine and as finance director for the City of Saco, Maine. Parker has also previously served as president of the Maine Governmental Finance Officers Association.
Christopher D. Pembrook
Chris Pembrook, CPA, MBA, CGAP, Cr.FA, is a shareholder at Crawford & Associates, CPAs, P.C., an accounting firm specializing in providing auditing, consulting and accounting services solely to governmental entities. He is currently serving as a member of the AICPA State and Local Government Expert Panel and the OSCPA Governmental Accounting and Auditing Committee. Pembrook was selected to serve on the joint COSO-ACFE-AICPA Task Force for the development of the group's Fraud Risk Management Guide. He also served on the AICPA task force that helped establish the AICPA's new single audit advanced expert certification program.
LaDonna S. Sinning
LaDonna Sinning, CPA, CFE, is a shareholder with Arledge & Associates, P.C. in Edmond, where she directs numerous audits of tribal and municipal governments, nonprofit entities and privately-held concerns. Sinning previously served as a commissioned bank examiner for the Federal Reserve Bank of Kansas City. She holds a bachelor's degree from Southwestern Oklahoma State University and an MBA from The University of Oklahoma. She is a member of the AICPA, the OSCPA and the Association of Certified Fraud Examiners.
Stephanie Telles
Stephanie W. Telles, CFE has nearly 20 years of professional experience in various roles both in the public and private sectors. She holds a bachelor's degree Government and Philosophy - with an emphasis on ethics - from New Mexico State University and MBA from the University of New Mexico. Her previous roles include serving as the Director of the Government Accountability Office for the New Mexico Office of the State Auditor. She is a board member for the New Mexico Chapter of the ACFE and a member of the Global ACFE Advisory Council. In 2020 she was honored with the Diverse Business Leader award and in 2018 she was named one of New Mexico's 40 Under Forty.
Jacob W. Winkler
Jake Winkler, CPA is a shareholder with Arledge and Associates, P.C. with more than 15 years of experience. His areas of expertise include corporate accounting, audit and personal finance. He has extensive industry expertise in government, insurance, employee benefit plans and healthcare. A graduate of the University of Central Oklahoma, he holds an MBA and a Bachelor of Science degree in Accounting. He is currently a member of the American Institute of Certified Public Accountants and the Oklahoma Society of CPAs. He serves on the Audit Committee of Upward Transitions, the Accounting Careers Committee and Governmental Accounting & Auditing Committee of the OSCPA, and serves as Treasurer for the Freedom School of Oklahoma City. He is also a member of Leadership Edmond Class XXXVI.
---
---