2563W

|
OSCPA Live
|
June 10
OSCPA's Annual Members Meeting - VIRTUAL
Friday, June 10, 2022

8:00am

-

11:40am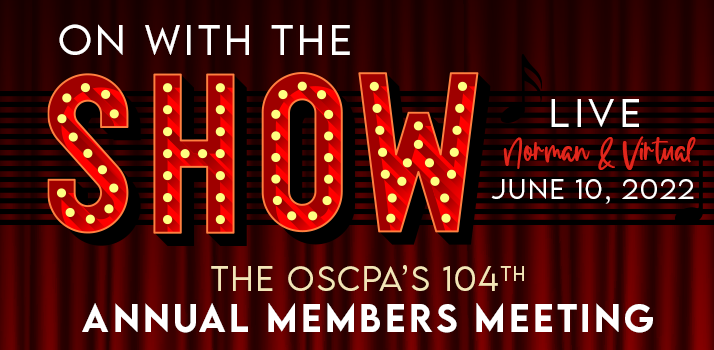 Start spreading the news... You'll want to be a part of it – the OSCPA's 104th Annual Members Meeting! We're shining the spotlight on you, Friday, June 10 at the Embassy Suites in Norman. Join our chorus line for this momentous celebration as we pull the final curtain on the past year of accomplishments. It will be a show you won't want to miss, complete with encores, special solos and a grand finale to honor our leaders and award winners. Secure your orchestra seats today!
Plus, get your exclusive, VIP invitation to the OSCPA's Annual Kickoff Reception.
*Please note, the awards ceremony will not be virtual.
In-Person Option: The OSCPA's Annual Members Meeting and awards luncheon will be held in Norman, OK. If you would like to join us in Norman, please register for the in-person option.
Instructors
---
Designed For
Oklahoma CPAs, award recipients and their guests.
---
---
Instructors
Anoop N. Mehta
Anoop N. Mehta, CPA, CGMA, is the incoming Chair of the American Institute of CPAs (AICPA). Over his 40-year career, Mehta has served in several volunteer roles: the AICPA Board of Directors, the Association of International Certified Professional Accountants (Association) Board of Directors, the AICPA Business and Industry Executive Committee, the AICPA Political Action Committee and AICPA Council. Currently he also serves on the University of Maryland, Robert H. Smith School of Business Advisory Board as well as the Accounting and Information Assurance Department Advisory Board. Currently he is the Chief Strategist for Analytical Mechanical Associates, Inc. (AMA). AMA has worked with government and commercial organizations solving the toughest engineering, science and business problems. Mehta, with over 40 years of experience provides expertise in key areas of business development, strategic planning, and operational improvements across AMA.
James H. Small
Jim Small, CPA, MBA, CGMA, is a Senior Accountant for Carrefour Associate, LLC a a hospice management company. His prior experience includes controller and VP-finance positions with a regional retailer, several regional oil and gas production and service companies. He worked in public accounting as an auditor for ten years with Deloitte Haskins & Sells (now Deloitte) on engagements for both public and private clients. He received a Masters in Business Administration from the University of Oklahoma and a Bachelor of Science in Business Administration from Cameron University. He taught accounting courses at the University of Phoenix, has served in numerous positions in the Tulsa Chapter of OSCPA and has presented seminars on ethics, fraud and leadership for many professional organizations. He has served on the OSCPA Professional Ethics Committee for over fifteen years. He has a daughter and three wonderful grandchildren.
---
---