2566

|
OSCPA Live
|
December 1
Oklahoma Tax Institute
Thursday, December 1, 2022

8:00am

-

Friday, December 2, 2022

4:15pm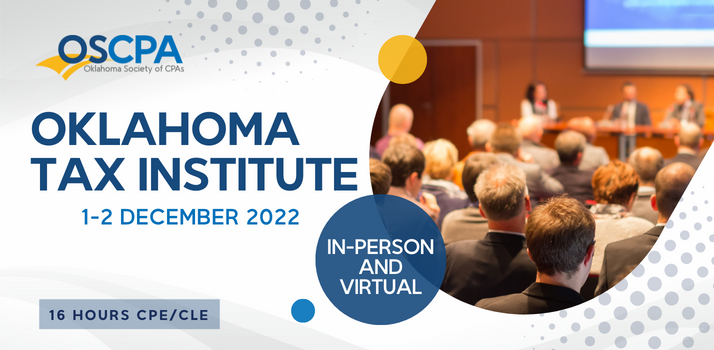 The Oklahoma Tax Institute is the OSCPA's most comprehensive tax and financial planning event of the year.
Earn up to 16 hours of recommended CPE credit, including two hours of ethics. Attendees can also receive up to 16 hours of CLE credit.
The Oklahoma Tax Institute is sponsored by the OSCPA Taxation Committee.
-------------------------------------------------------------------------------------------------------------
Room Reservations: Discounted room rates are available at the Embassy Suites - Norman for $129/night. You can book your room online or by calling 1-866-577-1273 and using group code OTI.
Virtual Attendance: If you prefer to attend virtually, you can register for the simulcast here.
Please Note: The OSCPA has updated our Transfer Policy for in-person events. Find more information here.
Instructors
---
Designed For
CPAs, financial planners, attorneys and other tax professionals needing updated information on a variety of taxation topics.
---
This event is currently not available for registration. If you have any questions, please give us a call at 405-841-3800 or email us at
cpe@oscpa.com
.
---
Instructors
Jennifer Benda
Jennifer Benda is a Partner with Holland & Hart LLP in their Denver office. She is a former CPA and tax attorney who focuses on tax controversy matters. She has spent the last seven years advising and defending cannabis businesses, including representing industry associations Marijuana Industry Group and Cannabis Trade Federation Action in submission of an amicus brief to the Ninth Circuit in Patients Mutual Assistance Collective Corporation, dba Harborside Health Center v. Commissioner. She earned a B.B.A. & M.S. (Accounting) at Texas A&M University and J.D., with honors, at George Washington University Law School. Jennifer has received the following honors: ranked by Chambers USA-Nationwide Cannabis Law: Corporate/Transactional practice & Tax Law (Colorado); Fellow: American College of Tax Counsel; National Law Journal Cannabis Law Trailblazer (2018); 5280 magazine top cannabis lawyer (2021-2022).
Ted Blodgett
Ted Blodgett, CPA, CVA, CGMA, ABV, JD, is the managing partner of Gray, Blodgett & Company, PLLC with 30 years of public accounting experience.
Ted's extensive public accounting experience spans a variety of areas, including tax planning for businesses and high net worth individuals, preparation of business valuations for estate and gift tax, along with litigation support.
As an expert witness, Ted regularly testifies in courts throughout the State of Oklahoma. He consults and testifies about complex accounting and tax matters, including marital dissolution issues. As an attorney, Ted offers insight to attorneys throughout the litigation consulting engagement process, including valuation of assets, tracing of funds and determination of marital and separate property.
He is a Certified Public Accountant (CPA) licensed in Oklahoma.
Ted is an Attorney licensed with the Oklahoma Bar Association.
He holds the Accredited in Business Valuation (ABV) credential from the American Institute of Certified Public Accountants. Ted is a Certified Valuation Analyst (CVA) from the National Association of Certified Valuators and Analysts. He is a Trustee on the Board of Trustees of the Oklahoma Lottery Commission.
Ted serves as the ex-officio director and Oklahoma AICPA Council Representative and has previously served as Chair of the OSCPA. He was inducted in the OSCPA's Accounting Hall of Fame in 2014.
Eric Kehmeier
Eric Kehmeier a passion to serve businesses by improving technology, led Eric to start Broken Arrow based IBT. He has been an integral part of the company's growth since 2007 and he continues to be excited about cultivating a positive impact for his team and the community. Eric has been honored by the Tulsa Regional Chamber as the 2014 Young Entrepreneur of the year, the Broken Arrow Chamber 2014 Business Person of the year, 2012 Men of Distinction Honoree, and named a top up-and- coming professional under 40 by the Tulsa Business Journal. Under Eric's leadership, IBT was honored with an Employee's Choice Award for Tulsa's Best Places to Work, okcBIZ Best Places to Work in Oklahoma, the Better Business Bureau Excellence in Customer Service Award, and the MSPmentor 501 Global list which highlights the top 501 Managed Service Providers in the world. Eric is on the Broken Arrow Chamber of Commerce Board of Directors, the NSU College of Business and Technology Advisory Board, and he is a proud Eagle Scout.
Chris Kuehl
Chris Kuehl, Ph.D., is a managing director of Armada Corporate Intelligence. He provides forecasts and strategic guidance for a wide variety of corporate clients around the world. He is the chief economist for several national and international organizations – Fabricators and Manufacturers Association, National Association of Credit Management, Finance, Credit and International Business and the Business Information Industry Association. He is also the economic analyst for several state accounting societies – Missouri, Kentucky, Tennessee and Kansas.
Tony Mastin
Tony Mastin, JD, is widely considered a leading authority on tax policy and state and local tax issues. He focuses his practice on advising individuals, high net-worth families, tax-exempt organizations, and businesses of all sizes on planning matters involving state and local taxation (SALT), including sales and use taxes, multi-state taxation, SALT controversy work, and federal income taxation. Tony joined McAfee & Taft in 2019 following his retirement from the Oklahoma Tax Commission after 35 years of service, including 12 years in which he served as its executive director. Over the course of his career at the OTC, he also served as an attorney in the General Counsel's office, deputy director of the Motor Vehicle Division, deputy director of the Business Tax Division, and director of the Tax Policy and Research Division. As executive director from 2007 – 2019, he was responsible for managing the day-to-day operations of the agency, serving as its legislative liaison, and assisting in the proposal, drafting, review and analysis of tax legislation. On the national level, Tony played an active role in the Streamlined Sales Tax Project (SSTP), a nationwide effort by state and local governments and the private sector to simplify and modernize sales and use tax collection and administration. That effort led to the development and implementation of the Streamlined Sales and Use Tax Agreement. Upon initiation of the SSTP in 2000, Tony served as the Oklahoma delegate for the project's State and Local Advisory Council (SLAC) and was a member of its steering committee, served as scribe on the original drafting committee, and was also a member of the Compliance Review and Interpretations Committee and the Issue Resolution Committee. In 2017, The Federation of Tax Administrators honored Tony with the Harley T. Duncan Award for his sustained and significant service to state tax administrators.
Bruce A. McGovern
Bruce McGovern, JD, LLM, is a member of the faculty at South Texas College of Law Houston, where he also serves as director of the school's Low Income Taxpayer Clinic. Previously, he served for many years as the school's vice president and associate dean for academic administration. He received his undergraduate degree from Columbia University, his law degree from Fordham University School of Law, and an LL.M. in Taxation from the University of Florida Levin College of Law, where he taught as a visiting faculty member before joining the faculty at South Texas College of Law Houston. Professor McGovern is a member of the Council of the State Bar of Texas Tax Section, a former chair of the Houston Bar Association Section of Taxation, and a fellow of the American College of Tax Counsel.
Allison McLeod
Allison M. (Yee) McLeod, LL.M., JD, CPA, is currently a Senior Lecturer at the University of North Texas in Denton, Texas. She received Bachelor of Business Administration and Juris Doctor degrees from Baylor University, and a Master of Legal Letters (LL.M.) degree specializing in Taxation from the Southern Methodist University School of Law. Professor McLeod has also studied British and Art History at the University of Sussex, England. Prior to joining the UNT faculty in 2010, Professor McLeod held the position of Director of Tax Planning and IRS Audits for Lehigh Hanson North America, a major manufacturer of cement, aggregates and other building materials. Her practice included both federal and international tax planning. Professor McLeod also spent thirteen years specializing in Tax Planning with the JCPenney Corporation, Inc., and two years with Deloitte & Touche in Dallas. Professor McLeod has taught at the university level graduate classes on Ethics, Tax Research, Multi-jurisdictional Taxation and Corporate Income Tax. She also lectures in Financial Accounting and Individual Taxation on an undergraduate level. She has taught at the UNT College of Law as adjunct faculty and works part-time at the law firm of Grable Martin Fulton, PLLC. Since 2011, Professor McLeod has been honored to present live and on-line ethics CPE classes to CPAs across the nation. She also serves as an expert witness in accounting malpractice cases and maintains a small private practice serving individuals and small businesses. Professor McLeod has also taught at the University of North Texas College of Law as adjunct faculty. She is currently serving on the Professional Ethics Committee of the Texas Society of CPAs. Professor McLeod is licensed to practice law by the State Bar of Texas since 1992 and has been a Certified Public Accountant since 1993.
Jason P. Oelrich
Jason Oelrich, CPA, serves as the head of the tax department for the Eide Bailly office in Tulsa, where he leverages more than 25 years of professional experience as a CPA in public accounting and private industry to help clients maximize their success. He specializes in federal and state tax credits and incentives, having helped monetize more than $100M in federal and state tax credits. Jason assists buyers and sellers with tax planning considerations of M&A transactions, and provides tax services to public companies and closely held businesses in a variety of industries including renewable energy, real estate, telecommunications, manufacturing, construction, and automobile dealerships. He is a frequent presenter on taxation updates and investment tax credits.
Mark Rogers
Mark Rogers has over 18 years of experience helping taxpayers identify and implement tax saving strategies made available through building, acquiring, renovating and designing property. As a leader in the Business Credits & Incentives arena, Mark oversees a national team of CPAs, Professional Engineers, energy modelers, LEED professionals, architects, HERS raters and construction specialists. The BCI group has professionals with wide industry experience performing fixed asset planning, 179D energy deduction, cost segregation, 45L energy credit, 45Q Carbon Capture credit, tangible property regulations and construction tax planning studies.
Mel Schwarz
Mel Schwarz, JD, CPA, has more than 37 years of experience in the world of tax legislation in Washington, D.C., including six years spent on the staff of the Joint Committee of Taxation. He is a past chairman of the Tax Legislation Committee of the AICPA, and former member of its Tax Executive Committee. He received his B.A. from SMU, his J.D. from the University of Michigan and his Masters in Professional Accounting from the University of Texas.
Adam Sweet
Adam Sweet, JD, LLM, has extensive knowledge in the area of partnership tax, including interpreting partnership agreements, allocation and distribution provisions, and issuing profits interests. He is also experienced with both the buying and selling sides of domestic and foreign joint ventures, as well as a variety of IRS controversy matters, including IRS exams and appeals hearings. Adam spent five years as an IRS litigator and another three years in the national office of a Big 4 firm before joining Eide Bailly's national tax office in 2017.
Jimmy J. Williams
Jimmy J. Williams, CPA/PFS, CFP®, is the founder of Compass Capital Management and a widely regarded speaker for national corporations and professional associations in the financial industry. He has worked with thousands of growth-minded business professionals to gain more confidence, growth and freedom in their financial and personal lives. With a Master's degree from The University of Tulsa in Tax Law and over 30 years of experience his insights are regularly featured in highly recognized outlets like The Journal of Financial Planning. He has served as the President and founding board member of local, state and national associations and has been named as one of the Top 40 CPAs You Should Know in a Recession by CPA Magazine. As a speaker, he can help any business professional with overcoming the complacency of coasting through life by default to experience transformation and developing a strategic and financial plan for living life by design.
---
---