3000

|
OSCPA Live
|
August 12
OSCPA's Leadership Summit
Friday, August 12, 2022

8:30am

-

4:25pm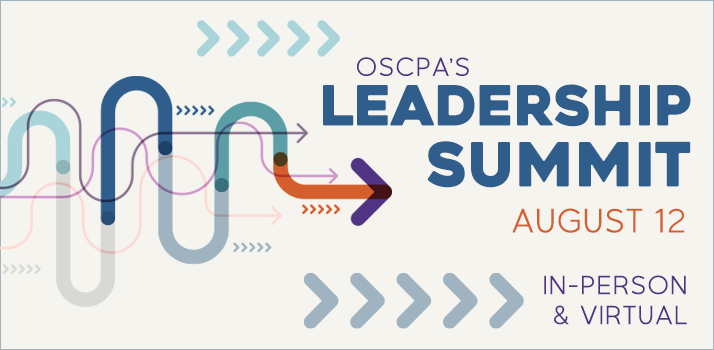 This new OSCPA summit will tap into your leadership potential and give you a well-rounded look at what it means to be a professional and community leader.
Hear from local leaders with a combined decades of career experience in the accounting, industry and association realms.
This event is recommended for eight hours of CPE and will cover the following topics:
Next Generation Leadership
Servant Leadership: Working in Your Community
Accountable Conversations
Ethical Leadership
Please Note: There are a limited number of seats available for our in-person event.
Virtual Attendance: If you prefer to attend virtually, you can register for the simulcast here.
Looking to sponsor this event? Reach out to the OSCPA Partnership Team for more information.
Instructors
---
Designed For
CPAs interested in learning more about leadership skills
---
---
Instructors
Andy B. Cromer
Andy Cromer, CPA, is a director with HSPG & Associates out of Oklahoma City. With more than 25 years in the profession, Andy has worked with a diverse client base that includes local governments, Indian tribes, manufacturing and nonprofits. Andy is a frequent speaker at various OSCPA sponsored events and training sessions.
Anne Roberts
Anne Roberts is a life-long advocate for the health and well-being of children and youth, having served for 20 years as CEO for the Oklahoma Institute for Child Advocacy, followed by 10 years at INTEGRIS Health as Director of Legislative Affairs. In these roles, she was a registered lobbyist, and worked with state and national policy makers to advance positive changes for Oklahoma families.
Now retired, she continues to teach Advocacy for Social Policy Change at Oklahoma City University, and provides consulting services to a number of non-profit organizations. She has been a gubernatorial and legislative appointee to a variety of state-wide entities, including the Oklahoma Health Care Authority, the Oklahoma Department of Human Services and the Governor's Task Force on Workforce Development. In 2000, she was named National Child Advocate of the Year by Voices for America's Children, and was honored with the 2018 Visions Award by the Oklahoma Center for Nonprofits for her achievements in nonprofit advocacy and leadership.
Anne received her undergraduate and graduate degrees in music from the University of Oklahoma, and studied opera in Europe. She has enjoyed a long and diverse career as an accomplished singer of opera, musical theater, jazz and oratorio, and still maintains an active performance schedule. She is also a certified yoga instructor and an avid hiker. Anne's major volunteer activity is leading week-long excursions in the great outdoors.
Jeff Wilkie
Jeff Wilkie has made a career in organizational development strategies for the last 25 years. His human capital career spans oil and gas industries, telecommunications, health-care management, not-for-profits and governmental entities.

He leads the Human Capital and Organizational Strategies niche under HoganTaylor Advisory Services. Jeff works as a confidante and coach to organizational executive teams and assists in the focus and formulation of a company's human capital strategies.
Jimmy J. Williams
Jimmy J. Williams, CPA/PFS, CFP®, is the founder of Compass Capital Management and a widely regarded speaker for national corporations and professional associations in the financial industry. He has worked with thousands of growth-minded business professionals to gain more confidence, growth and freedom in their financial and personal lives. With a Master's degree from The University of Tulsa in Tax Law and over 30 years of experience his insights are regularly featured in highly recognized outlets like The Journal of Financial Planning. He has served as the President and founding board member of local, state and national associations and has been named as one of the Top 40 CPAs You Should Know in a Recession by CPA Magazine. As a speaker, he can help any business professional with overcoming the complacency of coasting through life by default to experience transformation and developing a strategic and financial plan for living life by design.
---
---