3200W

|
OSCPA Live
|
November 2
OSCPA's Small Firms Management Summit - Virtual
Wednesday, November 2, 2022

8:30am

-

4:25pm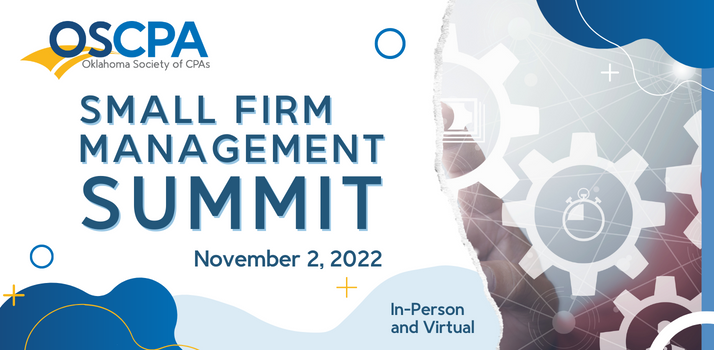 This OSCPA summit is designed to offer guidance to small firm managers and sole practitioners as they navigate the fast changing profession.
This event is recommended for eight hours of CPE and will cover the following topics:
Client Relations
IT Security
Hiring and Retention
Ethics
In-person Attendance: If you would rather attend in-person, register for the live event here.
Looking to sponsor this event? Reach out to the OSCPA Partnership Team for more information.
Instructors
---
Designed For
Small Firm Managers and Sole Practitioners
---
---
Instructors
Kellen Cowan
Kellen Cowan is the Co- owner of Newave Solutions and Founder of SOML INC./Band of Brothers Tulsa. With more than a decade of experience in the technology industry Kellen manages a growing team of technical professionals who stay at the forefront of technology. He also commits his energy to the development of men in his community through the local not for profit SOML Inc. He received his BA in Business Management from Oklahoma State University on 2007.
James S. Denton
James S. Denton, CPA, is a graduate of the University of Central Oklahoma and has been with Arledge & Associates since 1984 performing audit, income tax and consulting services for clients. During most of his 30-plus year tenure at Arledge & Associates, he has directed the firm's wide range of tax, audit and consulting engagements. Since 2008, Denton has served the firm in an executive capacity. Additionally, he's served in various roles with the OSCPA, GFOA and the Oklahoma Accountancy Board. Currently, he serves as treasurer for the Oklahoma Venture Forum, a president-elect of the Edmond Chamber of Commerce and director-at-large for the OSCPA. He also served a full term as a commissioner of the Oklahoma Incentive Evaluation Commission. Denton serves as a mentor annually for UCO's 2BLeaders program as well as the College of Business's Accounting Curriculum Advisory Committee.
Erin Hicks
Erin Hicks has been with Addison Group in Oklahoma City for four years, currently as a Senior Consultant specializing in Accounting & Finance Direct Hire Placement. Along with her team, she has helped numerous OKC-based companies and professionals find great talent and long-term career "homes"
---
---