3300

|
OSCPA Live
|
November 16
OSCPA's DEI Summit
Wednesday, November 16, 2022

8:30am

-

4:25pm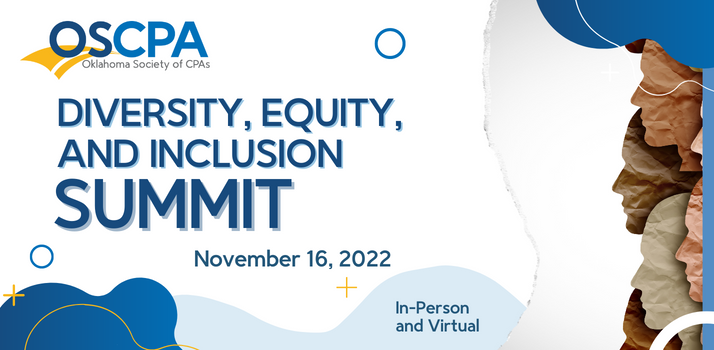 OSCPA's DEI Summit is a NEW event that will cover DEI initiatives on a national and state level. Hear from leaders experienced in the advancing diversity, equity and inclusion in Oklahoma and around the country.
This event is recommended for eight hours of CPE and will cover the following topics:
The Journey to DEI initiatives
Addressing Diversity, Unconscious Bias, and Social Justice in the Workplace
DEI Community Panel
Diversity, Equity and Inclusion in the Accounting Profession
Please Note: There are a limited number of seats available for our in-person event.
Virtual Attendance: If you prefer to attend virtually, you can register for the simulcast here.
Looking to sponsor this event? Reach out to the OSCPA Partnership Team for more information.
Instructors
---
Designed For
CPAs interested in learning more about DEI initiatives in the Accounting profession
---
---
Instructors
Cinthya Allen
Cinthya Allen has 20 years industry experience leading Diversity & Inclusion through Employee Resource Groups at a Fortune 50 Global corporation, including operational strategy, experience standing up a new Diversity, Equity, and Inclusion department for the 3rd largest city in Oklahoma, and leading an independent consulting firm to advance awareness, support, and guidance for navigating Diversity and Inclusion across industries. She is a respected influencer, gaining wins from implementing public policies as state law, receiving multiple recognitions on an national and local scale, and effectively advancing collaborative partnerships. Diversity, Equity, and Inclusion is a core essence of her work and leadership, all threaded with the commitment to transparency and integrity.
Skye Latimer
Skye Latimer was named Vice President of Innovation at We The People (WTP) in May 2022. She is a perennial community builder and connector of people, causes, culture and creative media. With a career that spans various industries, the highlight of her experiences are in marketing, DEI, social media, and community building. She is seen as a thought-leader for marketing to multi-cultural consumers through her intentional relationship building, insights, recommendations for improved voice and accessibility, and creative assets for intersectional audiences in the digital world and in-person. She is a trailblazing disruptor dedicated to creating digital and physical spaces of inclusion and belonging, elevating historically excluded voices, collaborating with BIPOC brands and influencers, and equity-centered organizational transformation.
She is a founding member of Black Women Voices Oklahoma, as well as the founding chairperson for Equity Brewing Company's Trust. She serves on the boards of the East End Business Development District, Mary Abbott Children's House, Juneteenth on the East, and Minority Enterprise Development week 2022.
She is a Next Gen Under 30 Award Winner, Oklahoma Gazette 40 Under 40 winner, Class Matter's Dream Building mentor and award winner, was recognized by People Magazine in 2016, was nominated as one of OKC's Most Powerful Young Professionals in 2021 and 2022, and was invited to speak on the Diversity and Inclusion panel at SXSW in 2017.
Jabar Shumate
Jabar Shumate serves as the Vice President of Community Convening and Social Justice for the Urban League of Greater Oklahoma City. He leads the Urban League's Diversity, Equity, and Inclusion (DEI) partnership with the Greater Oklahoma City Chamber of Commerce which focuses on helping local businesses and companies develop their DEI strategies. He is also is a DEI an independent consultant to companies and non-profits on organizational development and implementing DEI plans and programs.
---
---