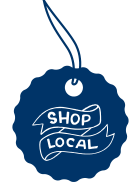 When you purchase OSCPA continuing professional education, your money stays right here in Oklahoma.
Your commitment to buy local creates sustainable programs, putting resources back into your Society. Take a look at the top five things that happen when you buy local CPE:
Your money will be kept in your Society. For every $100 you spend on Society CPE, $100 will go right back to OSCPA member programs, services and education that benefit you.  That's right; 100% of your CPE purchase is utilized to create more opportunities that help make your job easier!
You embrace your unique profession. You wouldn't want your business or firm to look like everyone else's. So why would you want your professional community to look that way? Purchasing local CPE fosters awareness for your Society and sets your profession apart. 
You nurture your community. When you choose local education offerings, you support the Society's mission to protect and inform the public. We know CPAs are premier financial professionals with the education and knowledge needed to advise consumers. Your Society CPE purchase helps us champion that cause on your behalf.
You benefit from local expertise. We take pride in offering quality programs with local subject matter experts. Society CPE exemplifies the benefit of the local viewpoint on relevant issues. It also allows you to support your fellow CPAs – often colleagues and friends – that  have a vested interest in your needs and are  passionate about what they do.
You make your profession an aspiration. Your support of the Society and the accounting community helps attract future CPAs to the pipeline. With your partnership, we can create a continually thriving profession together.
Take a look at all of our local CPE options below.
Virtual Seminars and Conferences
Virtual seminars and conferences take in-person events to the virtual world! The same speakers and same great content are all accessible from your home or office.
Webcast Options
We've partnered with a variety of vendors you know and love to provide topics that will meet your needs. Get moving on this diverse lineup of webcasts.
Self-Study/On-Demand
Self-study and on-demand courses provide an excellent alternative to traditional live seminars. Whether it's 6 a.m. or 10 p.m., these courses fit your unique lifestyle and learning needs.

What should you expect from OSCPA CPE? We'll continue to offer the education you have come to depend on. Read about our new guidelines and precautions.

Worried about going virtual? We have you covered. Check out our Virtual CPE Resource Center.