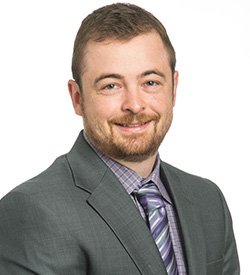 Kurt Schlicker, CPA, recently checked off a professional accomplishment from his bucket list by making partner at his firm, Eide Bailly. 
Schlicker, a speaker at the OSCPA's 2021 Governmental Accounting and Auditing (GAA) Conference, has been with Eide Bailly since 2011 and has been working as an auditor in the government and nonprofit industries ever since.
In the past decade, he has gained experience auditing states, counties, cities, school districts, special districts, higher education and nonprofit healthcare, just to name a few. Schlicker has also audited grants from almost every major U.S. federal agency.
However, he believes governmental accountants and auditors have more responsibilities than just financial reporting. 
"Compliance with laws and regulations is intrinsic in the day-to-day work of governmental accountants," Schlicker said. 
He will present on the final day of the OSCPA's GAA Conference, which will be held virtually May 3-7:
Single Audit Compliance Supplement Update
May 7, 2021 | 9:30 - 10:20 AM
"The 2020 Compliance Supplement Update will help auditors understand any audit requirement changes and will help the internal accountants understand why the auditors are asking new questions," Schlicker said. 
Schlicker took some time to answer a few questions for the Wire: 
Wire: What book(s) do you recommend for professional development and inspiration?
Schlicker: This is a cliché answer, but How to Win Friends and Influence People by Dale Carnegie. Probably one of the most referenced professional books of all time, but there is a reason for it.
Wire: Was their a subject you struggled with in school?
Schlicker: English or anything related to artistic talent was by far my least favorite subject. I was always drawn to math and the sciences. Anything to do with the other side of my brain was a struggle.
Wire: What's the weirdest job you ever had?
Schlicker: I haven't had a "weird" job unless you call working at a pizza shop in high school or a public accounting firm weird. However, when I was really young, when computers became much more prevalent, I used to print calendars from the internet and then take them door to door and sell them for $0.25. I thought I was a business mogul at eight years old when I had $32 to my name, until my mom took $31 for using all the ink in the printer. That was my first lesson in profit margin.
Wire: What's your theme song?
Schlicker: Eye of the Tiger. Working in public accounting can be summed up by the training montage and soundtrack in Rocky III.
To attend Schlicker's session at the OSCPA's 2021 GAA Conference, visit our registration page or contact cpe@oscpa.com with questions.