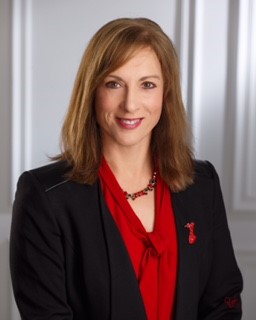 OSCPA member Lynn Flinn, CPA, will present the OSCPA's virtual May Lunch + Learn: Delegation and Empowerment Do's and Don'ts on May 18. 
Over the years, Flinn has learned a lot about this topic. In her presentation, she will share how CPAs can improve their lives with effective delegation strategies. 
"Accountants may not delegate easily because, generally, we are perfectionists," she said. "Of course clients appreciate accuracy, but effective delegation leads to more productivity and empowerment for employees!"
Flinn, a senior vice president at System One in Tulsa, started her career in public accounting before transitioning to the banking and publishing industries. She now works in the staffing industry, a direction she had never considered before the opportunity presented itself. 
"The experience helped me gain confidence by pulling me out of my comfort zone," Flinn said. "I gained more management experience and authentically love helping people reach their career goals." 
An OSCPA member for 37 years, Flinn is the 2007 recipient of the Society's Outstanding Member in Business and Industry Award. 
She founded the Tulsa Chapter of the Oklahoma Business Ethics Consortium and is a past president of the Leadership Tulsa Board of Directors. Flinn was named a finalist for The Journal Record's Oklahoma's Most Admired CEOs (2011) and Woman of the Year (2015), as well as a finalist for the Tulsa Small Business Connection's Small Business Person of the Year (2017). 

Flinn took some time to answer a few questions for the Wire: 
Wire: What books do you recommend for professional development and inspiration? 
Flinn: Man's Search for Meaning, Originals, Year of Yes, Up from the Ashes
Wire: What is your biggest achievement yet?
Flinn: Receiving the OSCPA's Business and Industry Award and the Care Award from the American Staffing Company for The Rowland Group's (now System One) community service work.
Wire: Who are your biggest influencers and why?
Flinn: My mother. During my first year in public accounting, I co-signed the loan for my mother to go to medical school. As a single mom, she got her GED, her college degrees and ultimately became a doctor! She never gave up on her dreams. That is a lesson for anyone.
Wire: What do you enjoy about the profession?
Flinn: I enjoy accounting because the concept of debits and credits balancing just makes sense to me. Even though I'm not really into astrology, maybe it's not a coincidence that my zodiac sign is Libra, and our symbol is balancing scales! 
Wire: What's your favorite way to spend a day off?
Flinn: Paddle boarding with my husband on any lake or in the Gulf of Mexico!