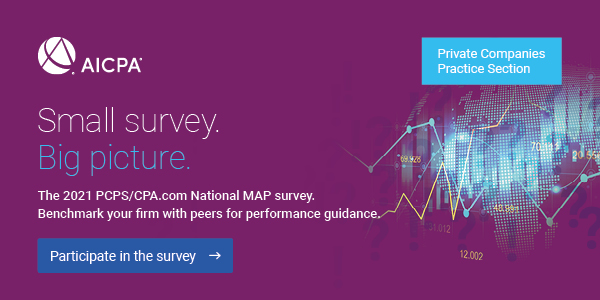 You and your colleagues are doing everything to maximize your firm's profitability. But are there areas where you can do more? Are there areas that are fine just as they are? Is there anything else you could do?
Participate in the 2021 AICPA PCPS/CPA.com National Management of an Accounting Practice (MAP) Survey. By benchmarking your performance on important KPIs against firms similar in size and region and against top performing firms, the survey will tell you the areas you need to focus on.
Quick questions, big insights
Similar to the 2018 Survey, the 2021 National MAP Survey is shorter and more streamlined than previous years. That means filling it out will take much less time and effort. In return you get a better understanding of how well your firm is coping with the changes in the profession and where it needs a little extra effort. 
The 2021 National MAP Survey brings you:
Free personalized report with today's most important KPIs
Clear picture of how your firm aligns with similar sized practices, both regionally and nationally
Conversation starting ideas for your team to help move the firm forward
PCPS Members will receive additional benefits, including all access to the survey platform for real time comparisons, downloadable trends reports, PowerPoint reports and customizable reports by specified filters when results are available
It's free for you and anyone in your professional network. The 2021 MAP Survey closes August 31.