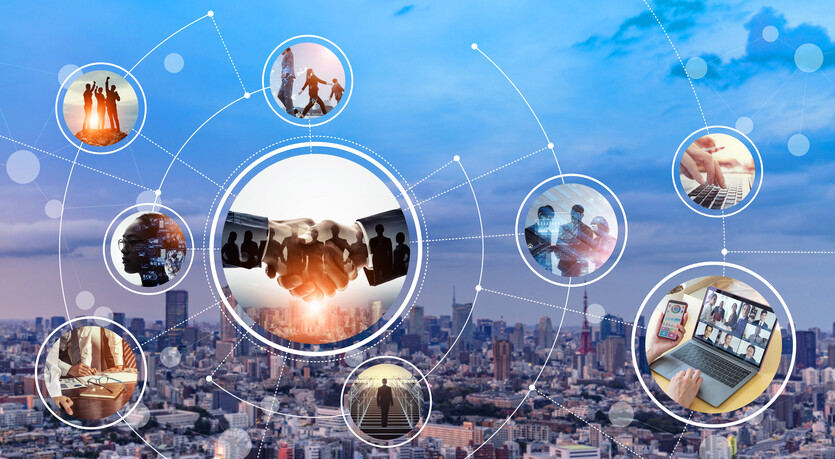 Learning opportunities offered by your Society go beyond quality CPE and guides from the OSCPA Knowledge Hub. Your fellow members are also an abundant source of wisdom and ideas, making networking one of the best way to learn and grow in your career.
The OSCPA offers virtual and in-person networking opportunities that make engaging with other accounting professionals both fun and constructive. 
Refresh yourself on the following networking options and start connecting with your peers today.
Evolve
The OSCPA's member-only social forum, Evolve, allows you to explore pressing topics in your field, stay up to date on advocacy efforts and hear insights from fellow CPAs. Pose a question or join a conversation today! 
Mix & Mingles
Get to know other CPAs in your state in the fun and relaxed atmosphere of an OSCPA Mix & Mingle. Our Mix & Mingles have taken us everywhere from sunny patios and pickleball courts to Oklahoma City Thunder basketball games and more. Keep an eye on our emails and Wire newsletter for information about our next Mix & Mingle.
CPE Events
We bring your professional network to you at our CPE Events. From conferences, to Lunch + Learns, to virtual seminars and webcasts—let us connect you with other professionals in your industry, spectacular sponsors and industry-leading speakers. 
Committees and Resource Pools
The OSCPA's 21 committees and resource pools offer meaningful ways to connect with other Society members and make an impact on the future of the accounting profession. OSCPA committees include Diversity Equity and Inclusion, Financial Literacy, Public Relations and many more. With so many options, members are sure to find a committee that calls to their passions and values.
Chapter Involvement
The OSCPA has seven active chapters to help you connect with other CPAs in your region. Each chapter has special meeting opportunities and events to help you get to know other professionals in your area. 
Your Society is improved by your voice and presence. Deepen your connection with your profession and fellow CPAs today!