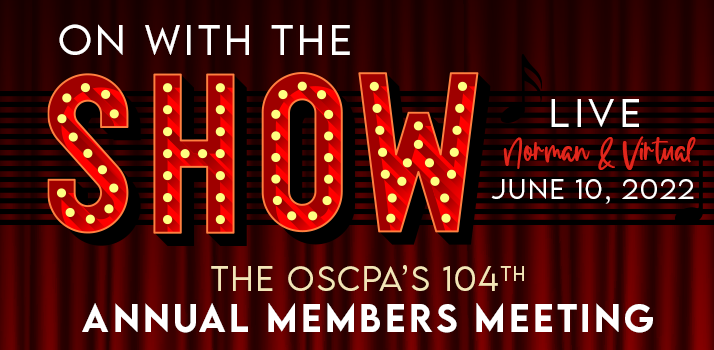 Get your tickets for our biggest show of 2022: The OSCPA's 104th Annual Members Meeting!
This annual awards celebration will take place June 10 at the Embassy Suites in Norman. Don't miss the unique opportunity to congratulate our 2022 award winners and honorees in person! 
In this year's performance, we will honor our members with a standing ovation and applaud the exceptional efforts and achievements made in advancing the accounting profession in Oklahoma. Hear from incoming AICPA Chair, Anoop Mehta, CPA, and get a professional ethics update from OSCPA Member Jim Small, CPA. The event is recommended for four hours of CPE credit.
It will be a show you won't want to miss, complete with encores, special solos and a grand finale to honor our leaders and award winners. Help us shine a spotlight on the innovators and change-makers who continue to leave a lasting mark on the Society, their peers and the profession. 
Plus, you have a VIP invitation to the OSCPA's Annual Kickoff Reception! Help us kick off the celebration, June 9, and participate in a silent auction benefitting the OSCPA's Educational Foundation.
Looking for a virtual option? The CPE portion of the OSCPA's Annual Members Meeting will be available virtually. If you would like to attend CPE online, please register for the virtual option. *Please note, the awards ceremony will not be virtual.
Don't wait; get your in-person or virtual tickets today. Now... On with the show!

Need help going virtual? We have you covered. Check out our Virtual CPE Resource Center.