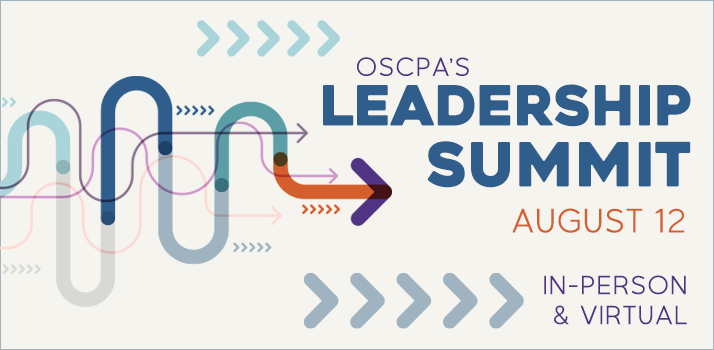 This year, you have the chance to hear from local leaders with decades of combined career experience in the accounting, industry and association realms.
This new OSCPA Summit will tap into your leadership potential and give you a well-rounded look at what it means to be a professional and community leader. Take your career to the next level at the OSCPA's Leadership Summit, August 12. 
Join a group of local and community leaders this August and explore the value of empathy, tough conversations and creating space for service to others. Earn eight hours of recommended CPE credit.
OSCPA members save $100 on this event!
Sessions include:
Next Generation Leadership (presented by OSCPA Member Jimmy Williams, CPA)
Servant Leadership: Working in Your Community (presented by Anne Roberts)
Accountable Conversations (presented by Jeff Wilkie)
Ethical Leadership (presented by OSCPA Member Andy Cromer, CPA)
Please Note: There are a limited number of seats available for our in-person event.
You won't want to miss it; reserve your spot in Oklahoma City of virtually!

Need help going virtual? We have you covered. Check out our Virtual CPE Resource Center.