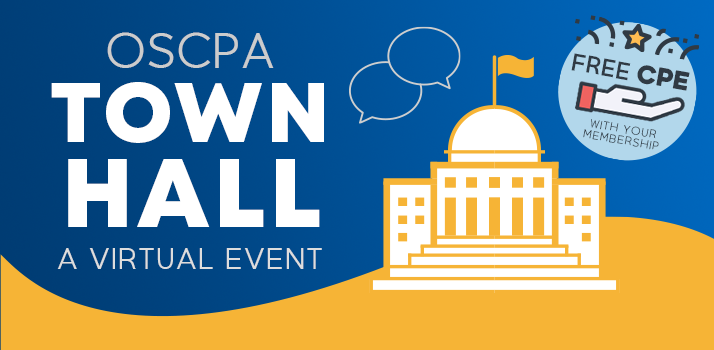 This year, the OSCPA is providing professional issues updates in four quarterly installments as part of the new 20 Hours of Free CPE member benefits.
Each virtual event will feature all-new, updated information that will keep you apprised of new developments and issues in the profession. Join OSCPA President and CEO Blaine Peterson, CPA, as he kickstarts the first OSCPA Town Hall on August 3.
If you want to know what to expect in 2022 and beyond, make sure you save your spot today for each of these special events. This is your opportunity to ask questions and participate in an interactive discussion. Each event is recommended for one hour of CPE credit and available for free to OSCPA members.*
2022-2023 OSCPA Town Hall Dates: 
Events are also free to staff of OSCPA members. Students are encouraged to attend.
Save your virtual spot today and don't miss out on the trends, topics and resources you will need this year.
*Must be a member in good standing at the time of the course. Members are not automatically registered and must sign up to attend as registration is available.

Need help going virtual? We have you covered. Check out our Virtual CPE Resource Center.