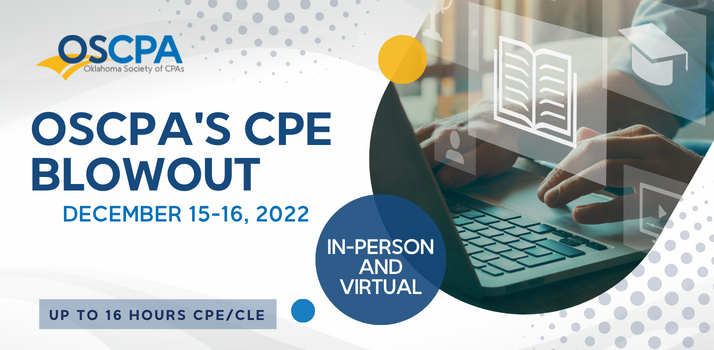 The OSCPA's CPE Blowout will feature popular courses from national speakers. 
Build your own schedule by choosing from 12 different four-hour courses covering hot topics and updates in management, taxation, technology, financial planning, accounting, auditing, ethics and compilations.
Register today to get up to 16 hours of recommended CPE/CLE credit in just two days! 
Sessions include: 
Maximizing Your Social Security Benefits
Critical Issues That CPAs in Industry Will Need to Face This Year
Compilation Engagement Under SSARS
Controller/CFO Update: Hot Topics Facing Today's Financial Professional
AICPA Professional Ethics
And more!


Join popular speakers: 
Jason Carney, CPA, CISA, PMP, CISSP, CCSP, Esq.
Mike Frost, CPA
Kurt G. Oestriecher, CPA
Stephen M. Yoss, Jr., CPA

Policy change for in-person events: In order to help with our planning efforts, the OSCPA will now charge a switch fee for registrants who transfer from the in-person to virtual option within two weeks of an event.