The OSCPA recently hosted some of its most anticipated events of the year. Check out what you might have missed at a sold-out event our newest summit, and the OSCPA's monthly mixer.
OSCPA's Federal Tax Update
The OSCPA hosted 216 members at its annual Federal Tax Update, led by Ron Roberson, CPA, on November 10.
The sold-out, in-person option provided members the opportunity to network and connect while learning the latest tax updates affecting business and individual tax clients; while the virtual option saw record-breaking attendance for this event's online learners.
Roberson, a nationally-known speaker, returned for a fourth year to provide the updates impacting tax professionals, and their clients, most. 
If you missed this year's event, Roberson will return for the OSCPA's Two-Day Federal Tax Update, coming up on January 12-13. In-person and virtual options are available.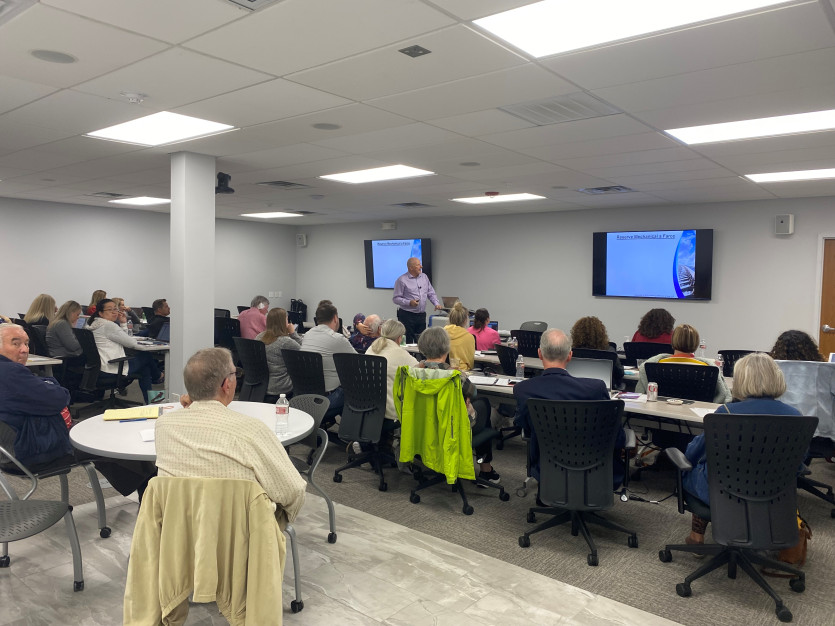 Speaker Ron Roberson, CPA, leads the discussion on all of the changes affecting business entities and individuals in the current year.
OSCPA's Diversity, Equity and Inclusion Summit
The OSCPA offered a new Diversity, Equity and Inclusion (DEI) Summit on November 16. More than 191 attendees joined both in-person and online for the inaugural event. 
Attendees were able to attend for free to earn six hours of CPE on topics surrounding DEI initiatives on a national and state level
Local leaders Cinthya Allen, TeeJai Brooks, Skye Latimer, Jabar Shumate and Tiffany Williams led discussions on DEI initiatives, social justice in the workplace, and much more. 
Did you miss the Summit? We will be offering all of the sessions from this event in the OSCPA's Self-Study Library. This includes: 
The Journey to DEI Initiatives 
Addressing Diversity, Unconscious Bias, and Social Justice in the Workplace
A DEI Community Panel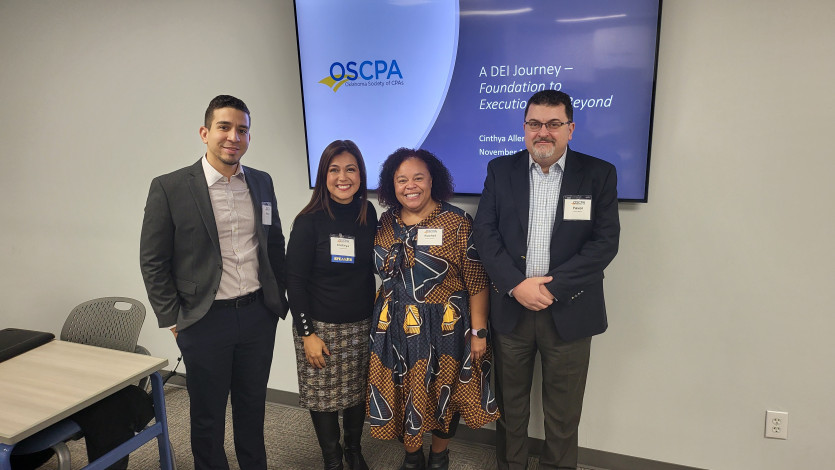 OSCPA members Kency Duarte, CPA; Cinthya Allen; Rachel Johnson, CPA; and Yavor Nikolov, CPA, at the OSCPA's DEI Summit.
OSCPA's November Mix & Mingle
Earlier this month, the OSCPA hosted its monthly Mix + Mingle at Sidecar in Oklahoma City. Members met up for casual networking and enjoyed drinks and fellowship. 
OSCPA members can attend all Mix & Mingles for FREE! Join us at our December event on Wednesday, December 7 at the Sharing Tree in Moore. 
Each year, the Sharing Tree puts on a Christmas Connection shopping event that allows Oklahomans in need the opportunity to continue the magic of Christmas through a no-cost shopping experience for new toys, winter clothing, coats and winter accessories. 
OSCPA members will have the opportunity to join together as a profession to help this holiday season. Volunteer times range from 10AM to 3PM.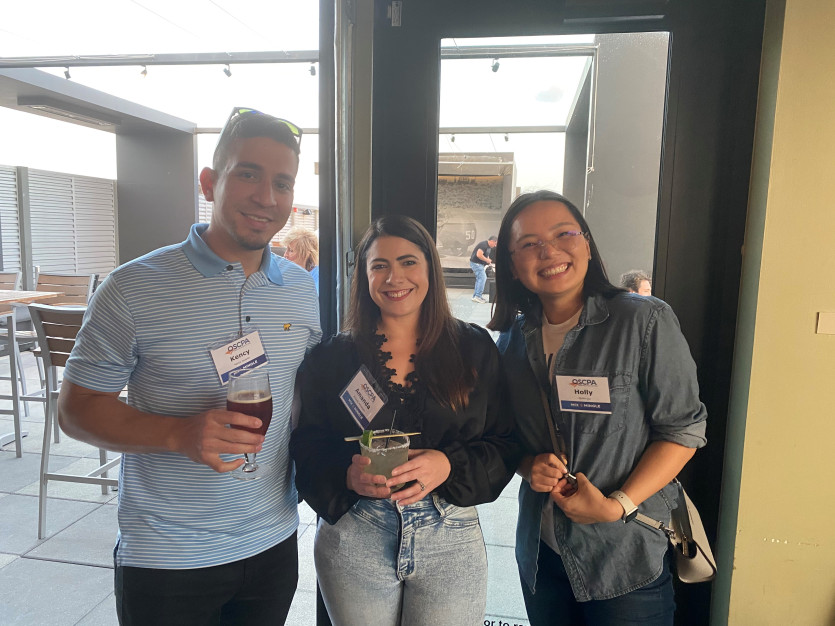 OSCPA members Kency Duarte, Amanda Halverson, and Holly Liu enjoying drinks on the OSCPA at the November Mix & Mingle.