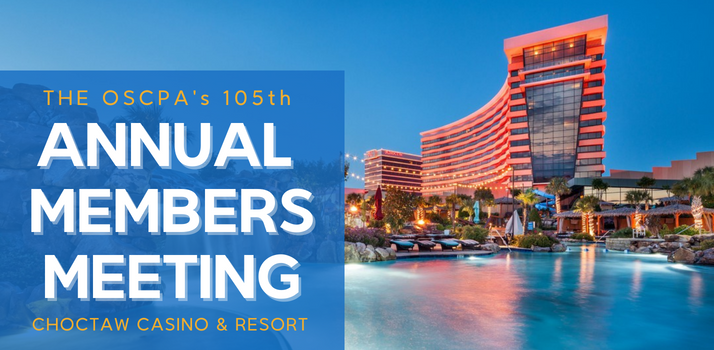 OSCPA Chair Vicky Petete, CPA, CGMA, Personally Invites You to the OSCPA's 105th Annual Members Meeting
Join us for an informative and engaging two days filled with professional development, networking opportunities and much more!

This year's meeting has been reimagined and promises to be our best yet, with a packed schedule of events that will leave you feeling inspired and energized. You'll have the chance to hear from industry experts on the latest trends and best practices in the profession, as well as network with colleagues from across the state. Whether you're a seasoned CPA or just starting your career, this event is not to be missed.
Sessions include: 
- Day 1 -
Ethics
Oklahoma Economic Update 
AICPA Update with AICPA Chair, Okorie Ramsey, CPA, CGMA, PMP
Welcome Reception
- Day 2 -
Staff Retention: Attract and Keep the Best People
Effective Networking: Energize Your Career
Annual Business Meeting Luncheon 
Leaders Eat Last
Change - Embrace and Enjoy, Because Change is Coming!
Join popular speakers: 
Steven C. Agee, Ph.D.
Joshua Elder, CPA
Ara Grigorian, CPA
Dr. Jane Mims, PEC 
Okorie Ramsey, CPA, CGMA, PMP