Register for the OSCPA's Oklahoma Tax Institute
The OSCPA's Oklahoma Tax Institute is the OSCPA's most comprehensive tax and financial planning event of the year. 

Oklahoma Tax Institute
Nov. 30 - Dec. 1 | 8:30 AM
Recommended CPE & CLE Credit: 16 Hours
Broken Arrow | Virtual


Event Lineup
Popular Topics
Spectacular Speakers
The Corporate Transparency Act
Virtual Speaker
Andrew Mattson, CPA
New for 2023!
Partnerships Update
Virtual Speaker
Lisa McKinney, CPA
New for 2023!
S Corporations Update
Tony Nitti, CPA
New for 2023!
Economic Update 
Chris Kuehl, Ph.D.
Back by popular demand!
Recent Developments in Federal Income Tax
Bruce McGovern, JD, LLM
Back by popular demand!
Federal Tax Legislative Update
Mel Schwarz
Back by popular demand!
Oklahoma Tax Update
Tony Mastin, JD
Back by popular demand!
Ethics
Jimmy Williams, CPA/PFS, CFP
Back by popular demand!
OSCPA Member
Tax Research and Development
Matt Ferreira
Cybersecurity
Kyle Hendrickson
IRS Enforcement trends
Tamara Kotzker

Why should you attend the Oklahoma Tax Institute?
Take advantage of all these exclusive benefits this event offers Oklahoma CPAs: 
Comprehensive Tax Education: Our expert speakers will cover a wide range of tax topics, including the latest updates and changes in state and federal tax regulations.

Networking Opportunities: Connect with fellow CPAs, tax experts, and professionals from various industries. Share insights and build valuable relationships.

Earn CPE/CLE Credits: This event provides an excellent opportunity to earn the continuing education you need, helping you maintain your professional certification(s).

Exhibitors and Resources: Explore the latest tax-related products and services from our event exhibitors.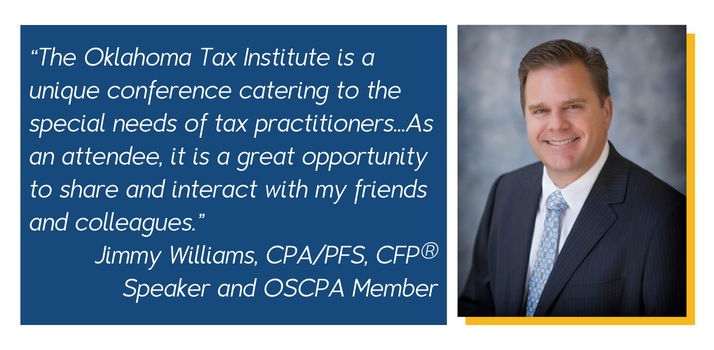 Singo with the OSCPA's Young Accounting Professionals (YAP)
November 29 | 5:00 PM
American Solera - Tulsa
FREE for members!
Kick off the Oklahoma Tax Institute by joining the OSCPA the night before for Singo, the ultimate musical bingo experience. Get ready to test your song knowledge and enjoy a memorable evening filled with great music, fantastic prizes, and delicious drinks. Don't miss out on this fun way to connect with fellow CPAs!