The OSCPA Accounting Careers Committee recently hosted three presentations at two schools to promote the OSCPA, student memberships, studying for the CPA exam, preparing for successful careers and all of the different professional paths for holders of the CPA designation.
Two presentations were made at Oklahoma State University's Spears School of Business in Stillwater on November 9. More than 150 students attended to hear OSCPA President and CEO Blaine Peterson, CPA, JD.
"OSU's accounting program is heavily recruited by Oklahoma's top accounting firms," Peterson said. "We want to offer support so students are aware of and prepared for the great opportunities the profession is about to offer them. We want to be a career partner for all of our student members."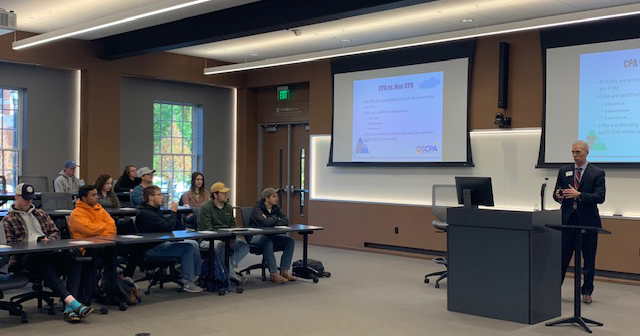 Additionally, on Nov. 13, at Rose State College in Midwest City, accounting and non-accounting students participated in an open forum panel discussion about the accounting profession in an effort to sway non-accounting majors to the profession. The OSCPA is increasing its involvement with two-year colleges in an effort to grow the CPA pipeline
OSCPA members who participated in the panel included Josh Elder, CPA, a senior audit manager with Peters & Chandler in Oklahoma City; Leslie Griffith, CPA, CGMA, the director of finance and corporate controller for Chickasaw Nation Industries in Norman; Eric Johnson, CPA, CGMA, the associate dean at the College of Pharmacy at the OU Health Science Center in Oklahoma City; and Steve Milam, CPA, PFS, the president of Milam & Associates in Tulsa.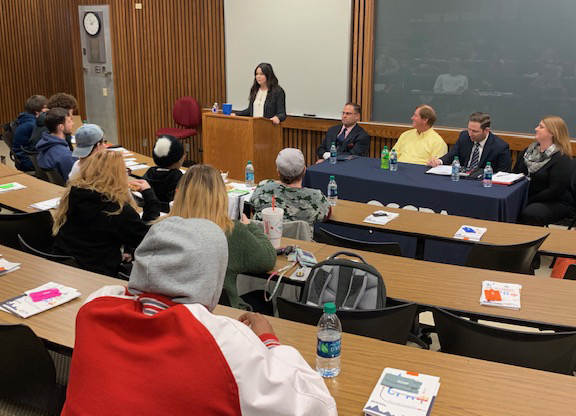 For more information about student memberships, benefits, resources and other student events, visit www.oscpa.com.