Janese Shepard, CPA, CGMA, a partner and shareholder with Gray Blodgett & Company, PLLC in Norman, was named the 2018 Rick Kells Outstanding Tax Professional. She is the 8th recipient of the award.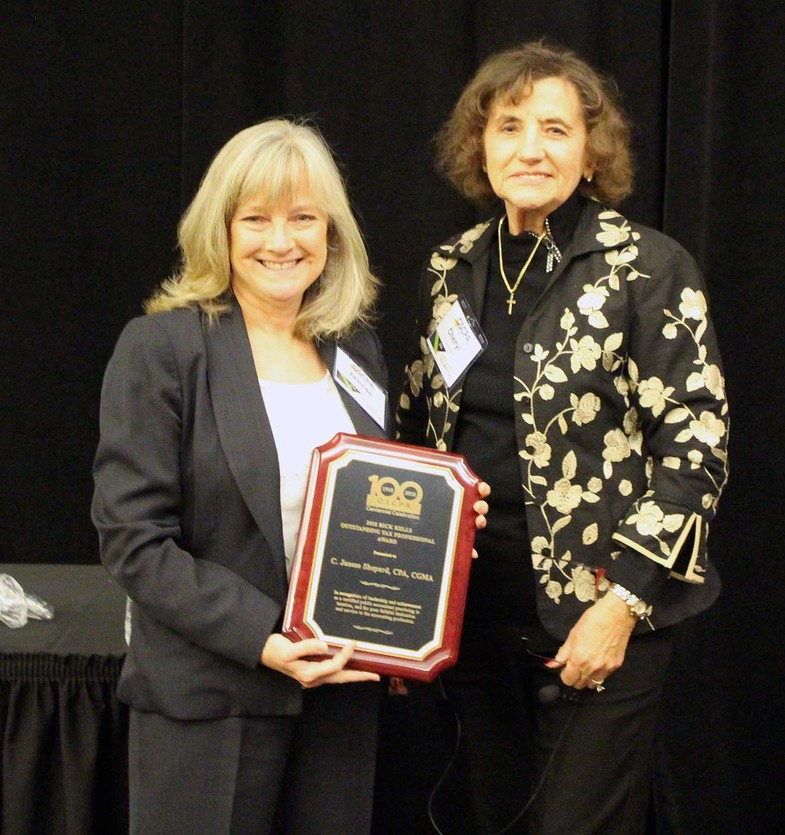 Janese Shepard, CPA, CGMA, accepts the 2018 Rick Kells Outstanding Tax Professional award from Cheryl Moore, CPA, CFPA. 
Shepard graduated summa cum laude from William Woods University in Missouri with a Bachelor of Science in Accounting and received the Distinguished Performance Award from the Missouri Society of CPAs in recognition of achieving the fifth-highest score on CPA exam in Missouri. With more than 25 years of tax experience, Shepard is certified in Missouri and Oklahoma and is a member of the American Institute of CPAs. 
As a member of the OSCPA and OSCPA Norman Chapter, Shepard served as chair of the OSCPA Taxation Committee from 2013 to 2018 and is currently serving as secretary of the board of directors. She joined Gray, Blodgett & Company in 2006 and became a partner in 2009.
Also dedicated to her community, Shepard has been a member of the City of Norman's Citizens' Oversight Committee for University North Park since May 2012.  She is also a member of the Norman Philharmonic's board of directors and currently serves as treasurer.
Sarah Bratcher, a controller for L-W Development in Ardmore, said of our honoree, she has been "a great mentor for the past six years. She uses solution-based thinking that immediately calms the most stressful situation."
Her current business partner, Ted Blodgett, said, "She is the smartest CPA I have ever worked with." He jokingly added, "Our tax team endearingly gave her the nickname 'Yoda.' This had nothing to do with her height, but rather about the amount of knowledge she has about taxes, being a CPA and life in general."
The award is named for Rick Kells, who was a tax partner with the law firm of Hartzog, Conger, Cason & Neville, in Oklahoma City. He was past president of the Oklahoma City Tax Lawyers Group, past chairman of the Oklahoma Bar Association Tax Section and a past Chairman of the Oklahoma Society of CPAs' Taxation Committee. Kells also served on the Board of Directors for the OSCPA. He was a fellow of the American College of Trust and Estate Counsel and was listed in The Best Lawyers in America in Tax Law and Trusts & Estates Law. This award recognizes individual achievement and leadership as a certified public accountant practicing in taxation.


###