As another way to make your membership more beneficial, we've partnered with trusted companies to help members get quality discounts on relevant products or services.
Let your membership pay for itself!
Insurance:
3000 Insurance Group - The OSCPA exclusively sponsors group insurance programs for members, their employees and families,  administered by Beale Professional Services.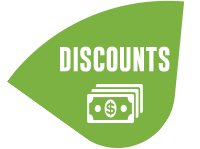 Service Providers:
EMSCO Solutions - provides robust computer solutions and reliable support for businesses across the United States.
CPACharge - is trusted by more than 150,000 professionals and offered as a member benefit by the Oklahoma Society of CPAs (OSCPA) as the best payment solution for CPAs—providing a simple, secure way for you to accept credit, debit, and eCheck payments online.
CPA Exam Prep:
Surgent CPA Review
Becker Professional Education
Gleim CPA Exam Review

UWorld Roger CPA Review
Back to Benefits